After the excitement of the Olympics, it's perhaps time to think about other sporting and cultural events taking place in the UK this Summer. The
Edinburgh Festival
has been running for a couple of weeks and continues until the end of the month. The 'Fringe' tends to be the most well known part of the Festival due to its ability to shock but there are in fact many elements to the Festival including the
Book Festival
which started this week and runs until the 27th August.
With this in mind, we looked through our book collections once more and found this copy of
Georgian Edinburgh,
published in 1948. It has a great cover, featuring the town's famous Georgian architecture, which is a
UNESCO World Heritage Site
.
Georgian Edinburgh
, by I.G Lindsay,
Museum of Domestic Design & Architecture,
JMR695.
For a contemporary viewer, this black and white illustration of Edinburgh would have looked as modern as a photograph of
The Shard
building in London today. The book shows Edinburgh under construction with scaffolding on a building in the background and some of the finished buildings in the foreground.
These sharp, neoclassical buildings were at the cutting edge of style and innovation in the eighteenth century and marked a radical shift from the medieval architecture that dominated a city before. Edinburgh has continued to lead the way in dramatic new architecture. The
Scottish Parliament
building opened in 2004, and received praise and criticism in equal measure.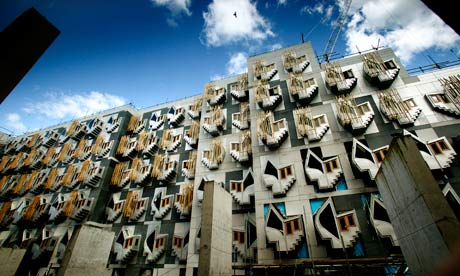 Scottish Parliament building. Credit: Murdo Macleod, from The guardian.co.uk
If you do find yourself in Edinburgh this summer, keep an eye out for any interesting architecture, or books about architecture - let us know what you find!
Click
here
to see more books from the MoDA collections.